Made for the mix thing at
brb_gallifrey , but I thought I'd put it up here too.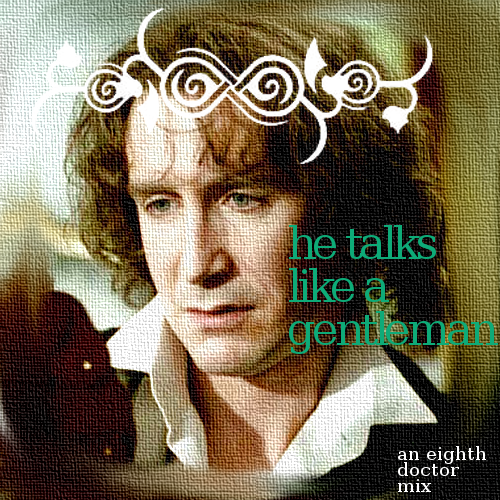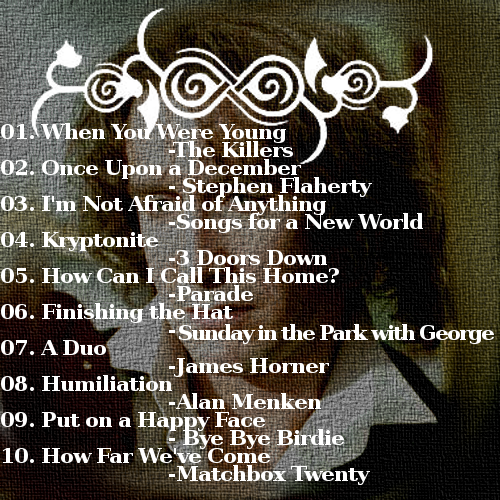 DOWNLOAD HERE.
01. When You Were Young - The Killers
He doesn't look a thing like Jesus
But he talks like a gentleman
Like you imagined when you were young
02. Once Upon a December - Stephen Flaherty


Someone holds me safe and warm
Horses prance through a silver storm
Figures dancing gracefully
Across my memory
03. I'm Not Afraid of Anything - Songs for a New World


And I feel the calling of adventure
And I hear the ringing in my ear
The lights are glaring
Trumpets blaring
I'm right here
And I hear the calling of tomorrow
And I feel the stirring in my bones
And David loves me
He's afraid to hold me

04. Kryptonite - 3 Doors Down


You stumbled in and bumped your head, if
Not for me then you would be dead
I picked you up and put you back
On solid ground
If I go crazy then will you still
Call me Superman
If I'm alive and well will you be
There holding my hand
05. How Can I Call This Home - Parade
A Yankee with a college education
Who by his own design
Is trapped inside the land
That time forgot
06. Finishing the Hat - Sunday in the Park with George
And when the woman that you wanted goes
You can say to yourself, "Well, I give what I give."
But the women who won't wait for you knows
That, however you live
There's a part of you always standing by
Mapping out the sky
07. A Duo - James Horner


We're a duo
A duo
A pair of lonely ones who were meant to be a two!
Oh, a duo
It's true-o
Wherever we go, we're going me and you!
08. Humiliation - Alan Menken


[instrumental]
09. Put On a Happy Face - Bye Bye Birdie


Gray skies are gonna clear up
Put on a happy face
Brush off the clouds and cheer up
Put on a happy face
Take off the gloomy mask of tragedy
It's not your style
You'll look so good that you'll be glad
You decide to smile!
10. How Far We've Come - Matchbox Twenty


I started running but there's no where to run to
I sat down on the street took a look at myself
Said where you going man you know the world is headed for hell
Say your goodbyes if you've got someone you can say goodbye to
I believe the world is burning to the ground
Oh well I guess we're gonna find out
Let's see how far we've come
Let's see how far we've come

Right, so, there's that. I hope you enjoy~ Originally I was gonna make a Time War mix, but... this happened instead. Oops? Oh well, I like this better.