Right. ONWARDS AND UPWARDS. Let's see if we can fit both of these into a single post...

Friday having concluded with me passing the hell out while everyone else spent hours chilling with Rob Shearman meant that Saturday began with me waking up and... sitting around for like an hour and a half while everyone else slept. And then I ended up having costume malfunctions... goddamn elastic... BUT! We finally managed to get all that sorted out, and at long last, everyone headed down with Ali in her Alice (AKA TORCHWOOD LESBIAN) costume, and the rest of us in our Team Zagreus stuff.




India gave me a HUGE hug, and was all, "LOOK HOW CUTE I LOOK!" in regards to my costume. Ahahaha. I love her forever.

At one point, we were walking somewhere, and Paul walked past, stopped, looked at Cully (who was wearing the Eight costume I'd made her) and said, I quote, "It's like looking in a mirror." So, um. Major boost for my costume-making-self-esteem there. Even if he didn't mean it in regards to the costume. Whatever.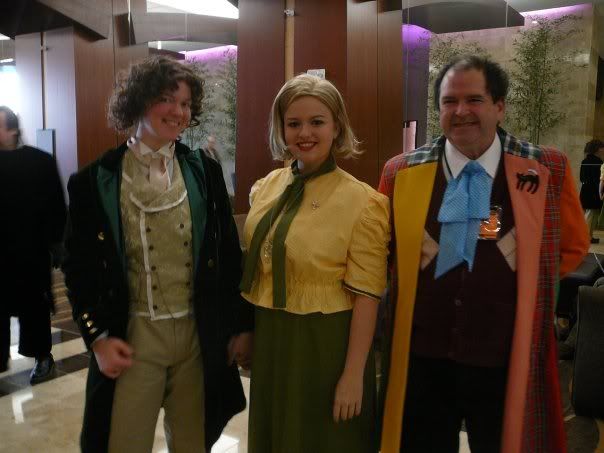 And we also found a Six. Woo! I like this picture because it doesn't make my costume look like a yellow square on top of a green rectangle. Charleycostume: Big Finish Approved, Highly Unflattering. ;D

SPEAKING OF BEING BIG FINISH APPROVED. At some point Tony Lee and Rob Shearman were signing things, and we went. Liz had quite a stack, so we were in front of them for a bit, and of course conversing happened. Rob was all, "I hate to ask this, because it might be rude, but who are you dressed as?" "Charley Pollard." "Ahh, thought so." And then the two of them had a mini-conversation on how they should have thought to put Charley in "something so nice". You guys just... ah. You don't EVEN know what sort of boost that was. I mean, he WRITES Charley. And he liked what I'd designed for her. akldjflk.

Paul McGann, Daphne Ashbrook, and Yee Jee Tso panel happened.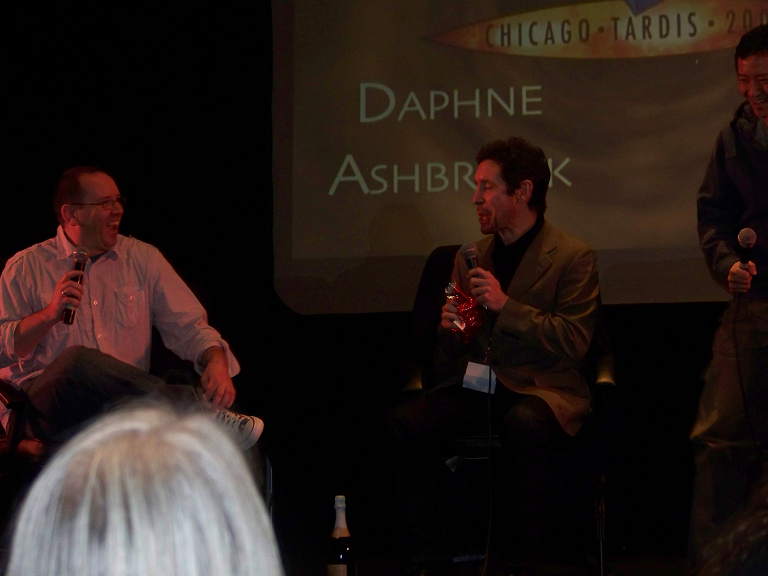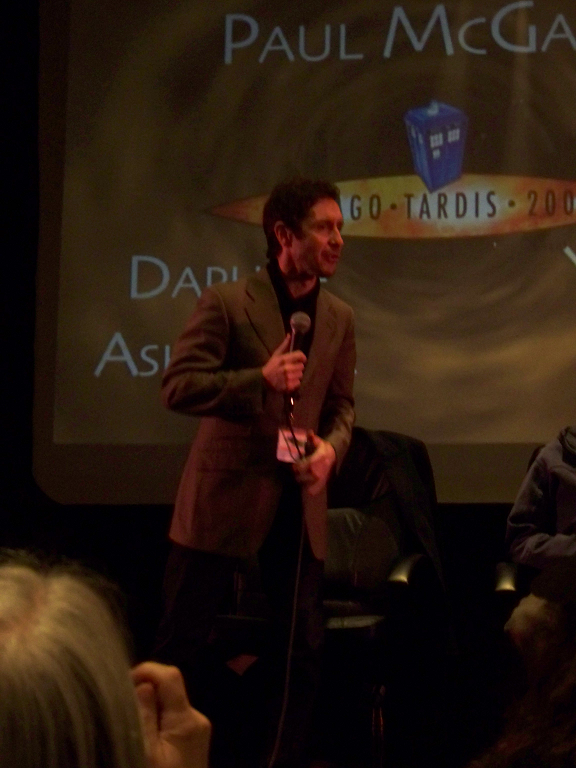 Wooooo UNIT.

Lia was uncomfortable in the Brig, so she ran back upstairs to change into Fitz. There was something for the masquerade we had to go to, but it wasn't like, judging or anything, so they'd assured us we didn't HAVE to be in the costumes at that point, so it was all good.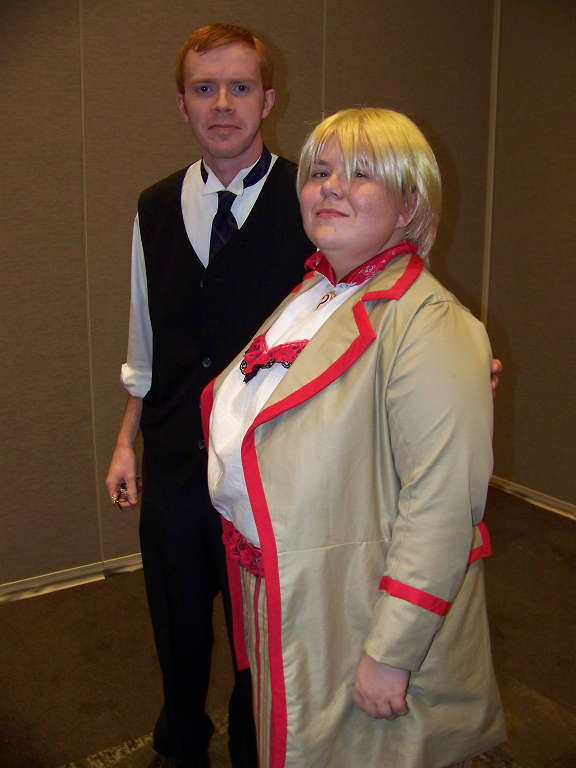 We finded a Turlough.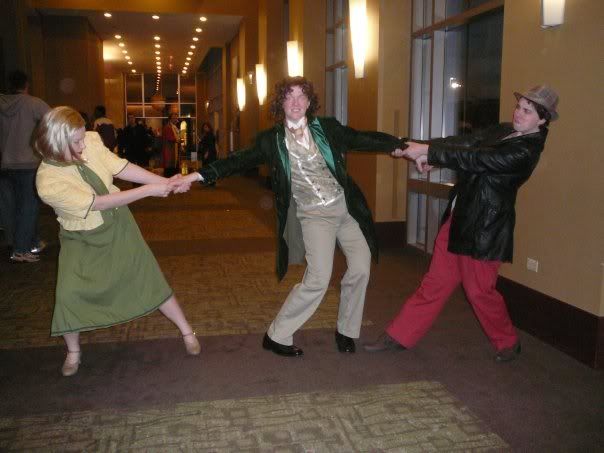 WHO WILL WIN IN THE BATTLE FOR THE DOCTOR'S HEART(S)? CHARLEY OR FITZ?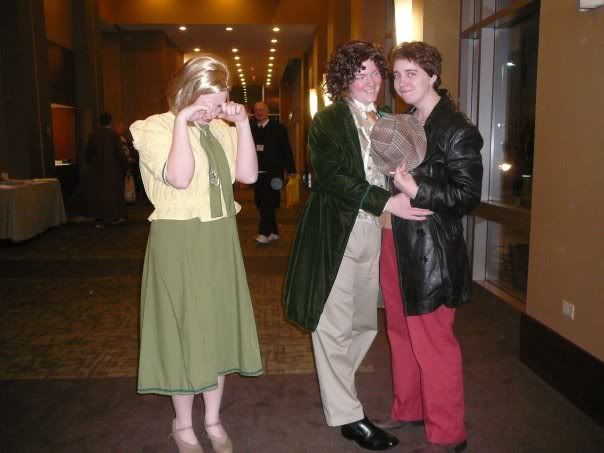 Fitz, naturally. There is no contest.

After a bit we had to go get ready for the Masquerade, so Lia donned the TARDIS again and we went and did that thang.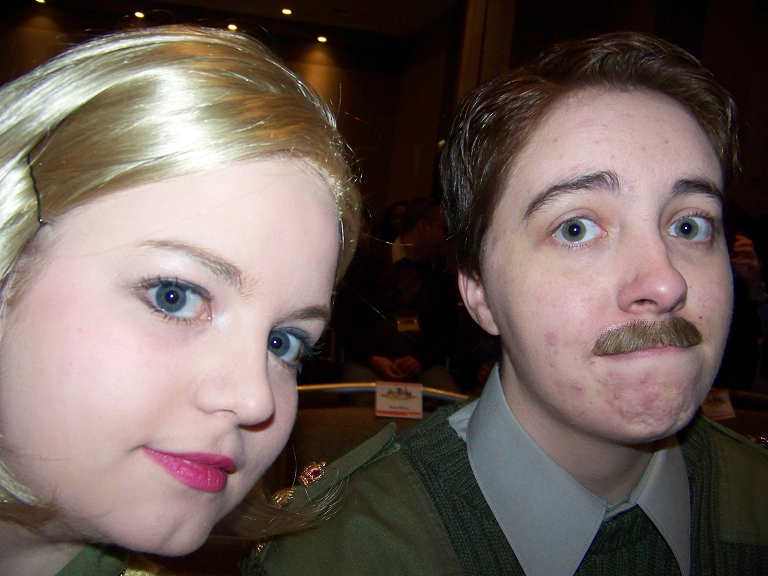 And Ali, the wonderful wonderful Ali, she got like, two awards. Because she's fukken pimp. One thing that sorta bothered me though was how they were like just... making up categories. Like, "Best found crap for a costume evar" and "Weirdest source material" or whatever. It didn't feel as... legit as I'm used to? Idk. I'm always so surprised at the differences in how costume contests at animu cons are ran compared to what happens at Who cons. BUT THAT'S A TOPIC FOR A DIFFERENT DAY.

When that was over we felt like being Eight and Ianto again. I HAD HAD ENOUGH OF BEING A GIRL FOR ONE DAY. WHO DOES THAT? BEING YOUR REAL GENDER. PFFT SOOOO OVERRATED. ;D




We found
brewsternorth in Eight and were CAERDROIA. WOOOO! I was the bouncy one, naturally. What with my string, and all.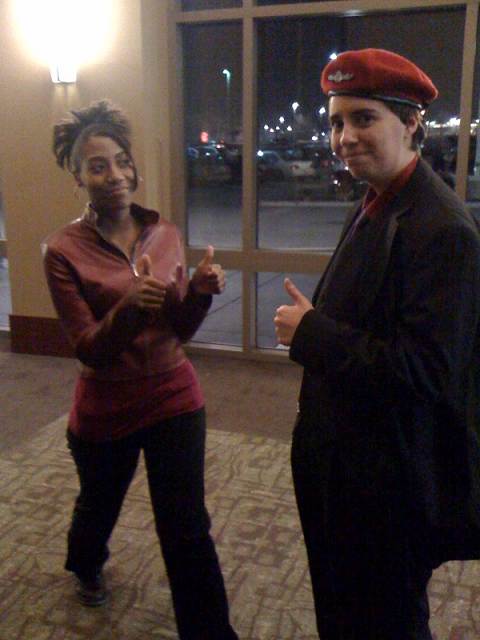 We also found Martha Jones and a UNIT hat. YOU KNOW, LIKE THAT PART IN TORCHWOOD. YEP.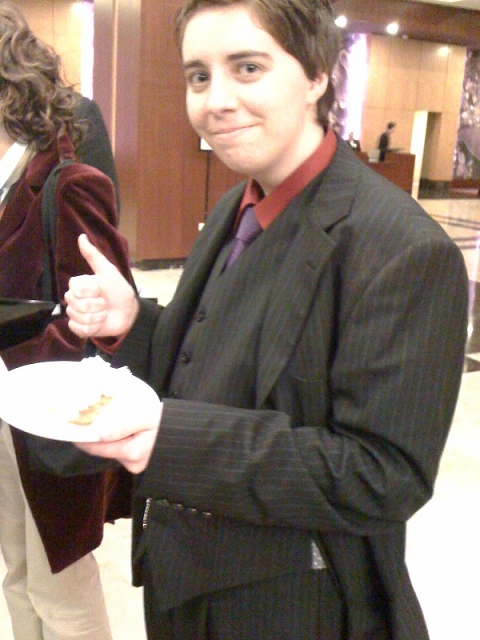 IANTO APPROVES OF PIE.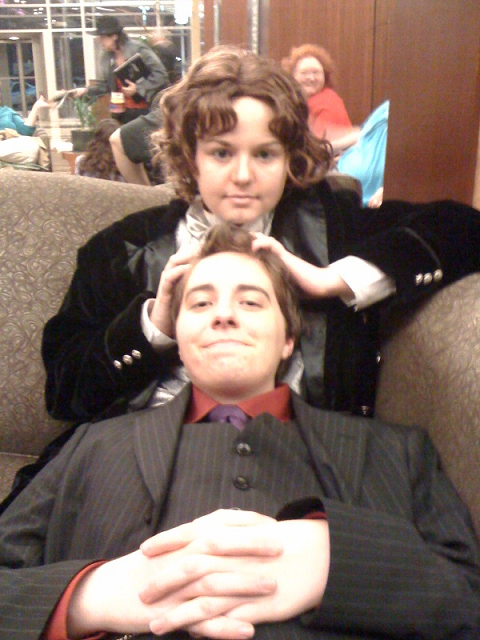 Blanket!Lia gets her hair ruffled. So we all just were hanging out in the lobby for a long time before we all headed back upstairs for sleep. Which involved us giggling for like an hour instead of actually going to sleep, in that way things tend to go when a room full of girls are all too tired to actually go to sleep.


But sleep we did, and then Sunday happened. Quick preface: Sunday was quite possibly the best and most surreal day of my entire life. Just saying.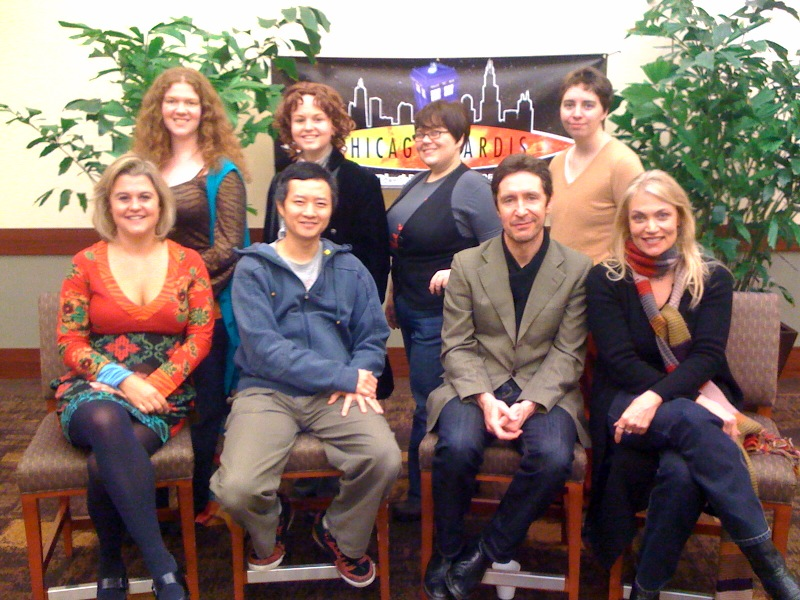 We got our picture taken with awesome people.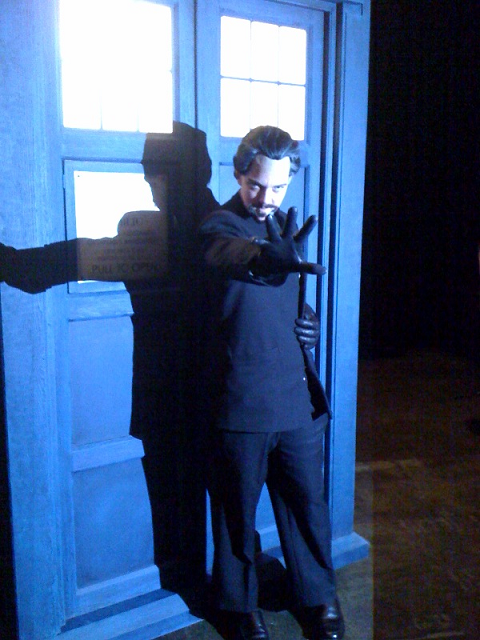 We took pictures in front of the TARDIS.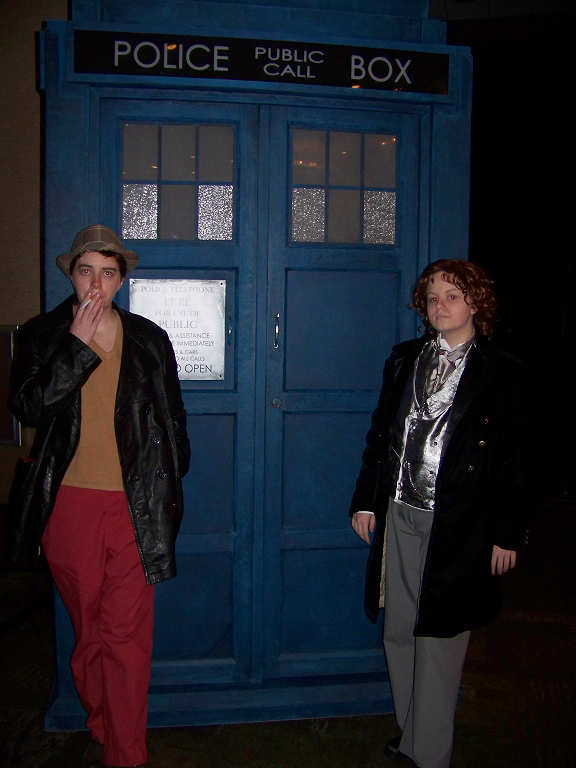 OH SHIT FACTION PARADOX. NUUUUUUU FITZ. ;___;

The panel about the Eighth Doctor audios happened as well. Paul's son, Jake, was on it as well even though he wasn't an ~announced~ guest of the con. He's been in audios though. Immortal Beloved (yay Lucie) and Earthly Child (which hasn't been released yet, but it's his ~big role~ as Susan's son. :D )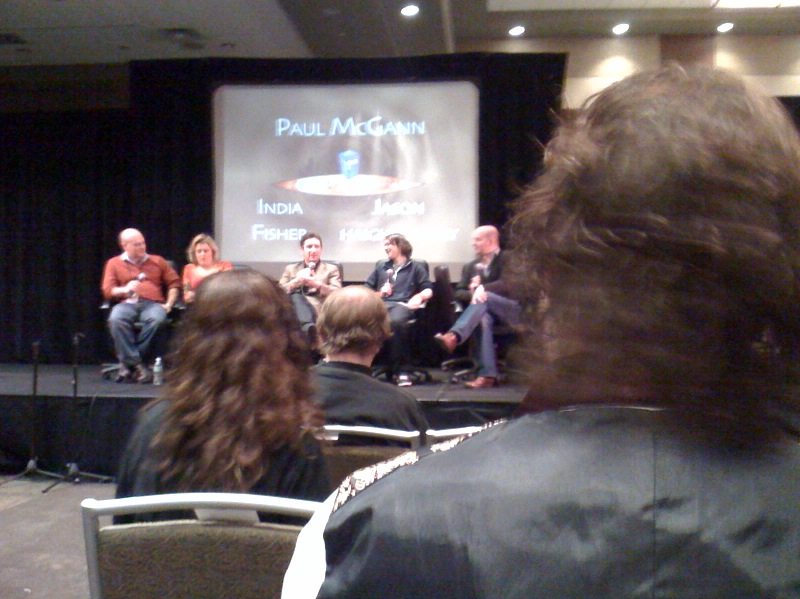 It was my favorite panel all weekend. Nobody is surprised by this though.


At one point during the day, we were in the dealer's room minding our own business, and out of nowhere, Jason Haigh-Ellery walks over to us. He was telling us that he had to leave, but that he loved getting to meet us and our costumes and all that. He then proceeded to HUG AND KISS EACH OF US GOODBYE. It was so amazing and sweet and omg I love that man forever.

We hung out for a while before we all changed out of costume and went back to OMEGAAAAAAAA for more dinner.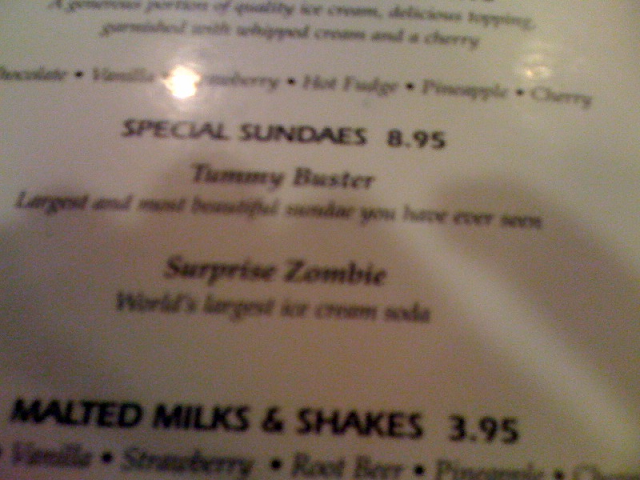 btw you can buy a zombie there. SURPRISE!




MAKE LOVE NOT TIME WAR.

Oh, I forgot to mention the bit where Paul McGann passed me in the hallway and stopped to tell me he loved my smile. I melted. Had I been a more coherent creeper, I'd have been all "I love yours too" but as I said, I had melted at that point.

Anyway, next on our magical adventure was to go to the hotel bar to chill and get dessert. Somehow, don't ask how because I'm not entirely certain myself, Tony Lee, Nick Briggs, and Rob Shearman came over to sit at our table and hang with us. UHH YEAH. It was pretty epic. They had some party thing they were supposed to go to, but didn't want to go to (room full of awkward nerds is apparently less fun than sitting at a table chilling with us? Interesting.) but they did go.

... While they were gone we finally got around to having that dessert.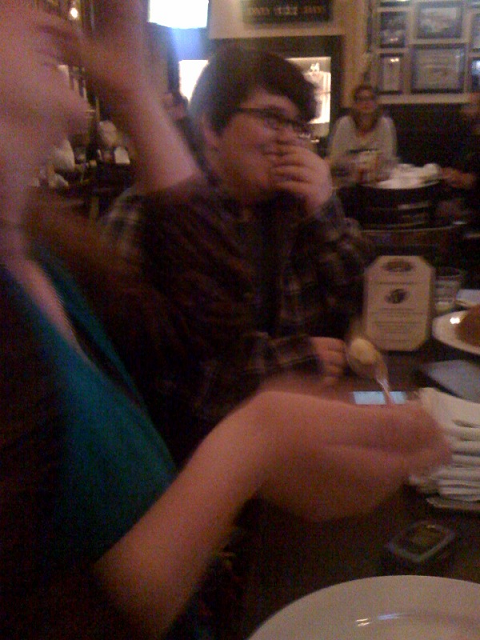 YEAH DON'T ASK. So anyway, after some minutes, here comes Tony Lee, having escaped from the party. We continued to hang with him, and then some girl who knew Tony (and obviously had a score to settle) brings this totally drunk girl over who had no idea about anything Doctor Who.

There are no words to describe this encounter. Really. It was simultaneously the most hilarious and most awkward thing I've ever lived through. Before it was over, Nick Briggs had returned, and the girl was like, all up in his lap and stuff. There was a crowd of (sort of awkward) people around just... watching it all happen. Rob comes back and helped us all escape THANK GOD so we relocated to the hotel lobby away from Crazy Girl.

Drinks ended up being set up in the lobby. The hotel was apparently cool with this? They weren't allowed to have open bars in the lobby though so they GAVE US A FREE ROOM in which to continue this party. Everyone went in there. It was so strange though, because even though there was a room full of people... Nick and Tony were still mostly hanging with us while people at the other end of the table sort of sat there weirdly. Yeah, I don't even understand it at all.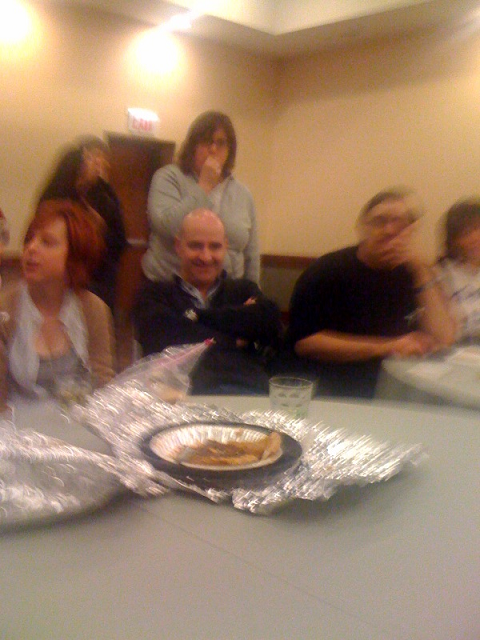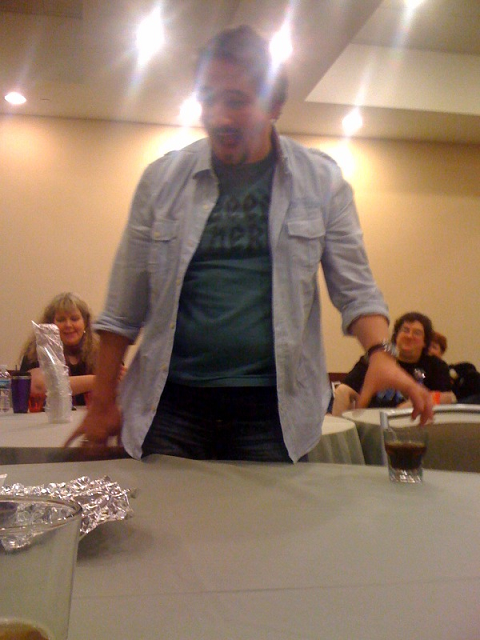 Tony Lee can't handle purple drank.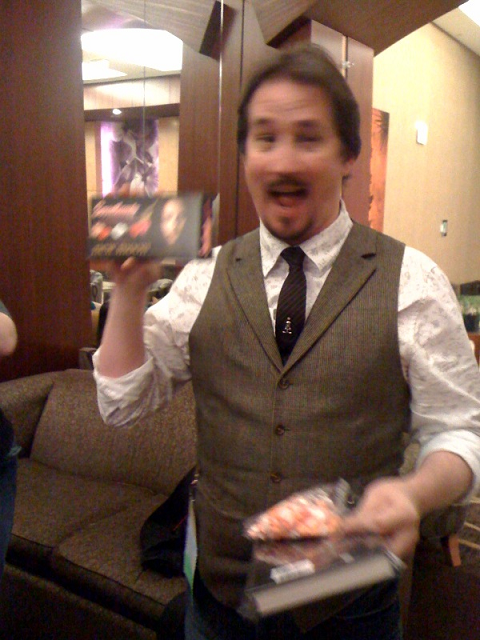 Tony Lee bought Twilight candy. (yeah this picture is out of order but I can't remember exactly where it fits in so you're getting it now. STFU I CAN DO WHAT I WANT.)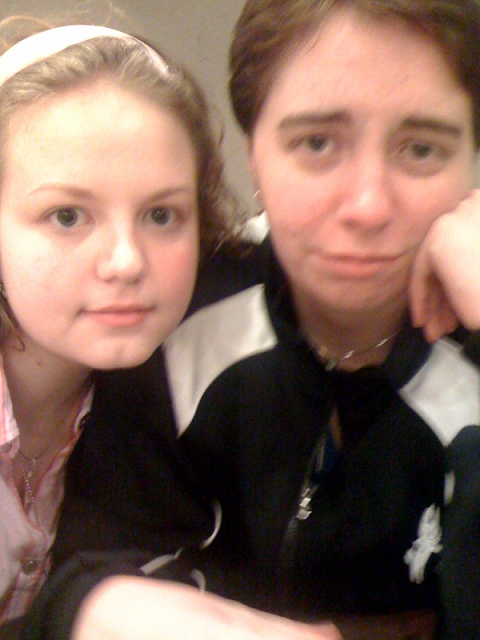 :3

Eventually the party died down, so we retired to the room. Lia was hungry. Lia wanted her leftover grilled cheese.




Lia heated up her leftover grilled cheese in the same way the pioneers did it.

We attempted to watch Fairytale before going to sleep. I fell asleep five minutes in. They all apparently actually finished it though? But that concluded THE BEST DAY OF MY LIFE EVER.


Sunday came and we all checked out and went to the lobby to hang until it was time for each of us to leave. I was SUPPOSED to be picked up in a shuttle van, but um. They sort of sent a limo instead.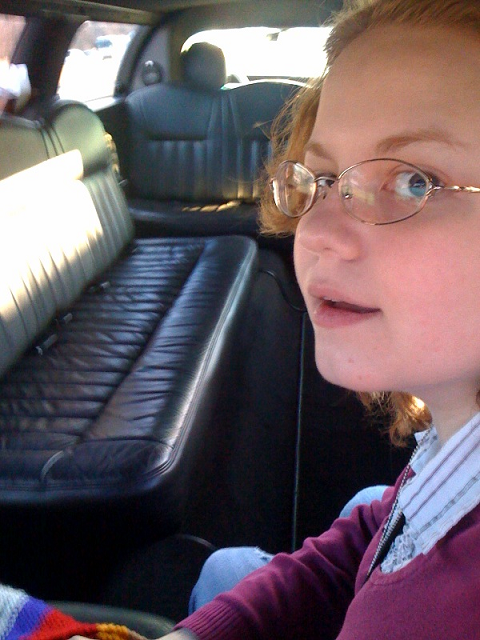 A stretch limo, akshully.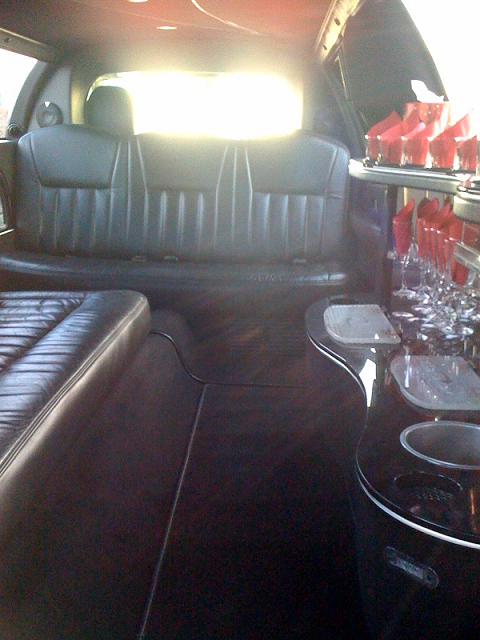 Yeah. So that was pretty pimp. I got to the airport and there was like nobody around. Haha. My flight had been delayed for like an hour, which meant I was still there when Liz showed up.

WE HAD AIRPORTCON. WITH SPECIAL GUEST FRAZER HINES.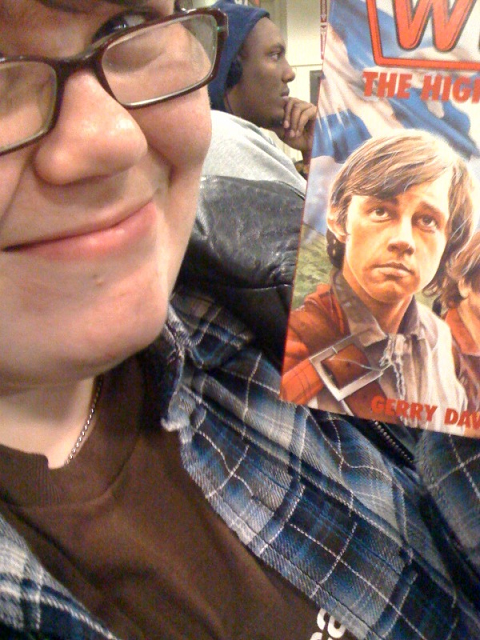 Hells yeah.


But then Airportcon had to come to an end, and I was back home.


Oh here, have some pictures of my stuff.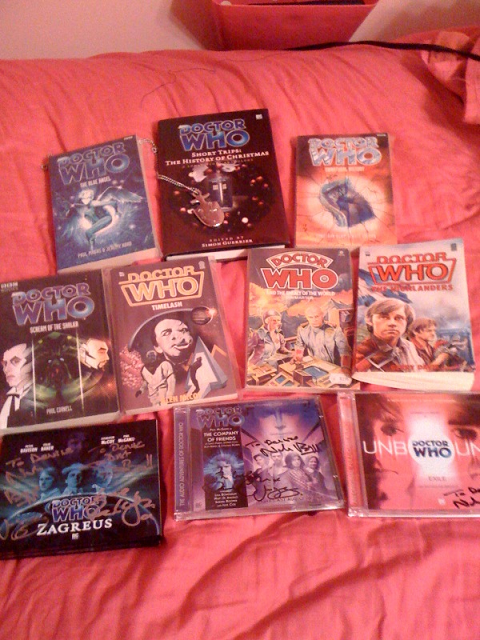 Annnnnnnnnnd my bag...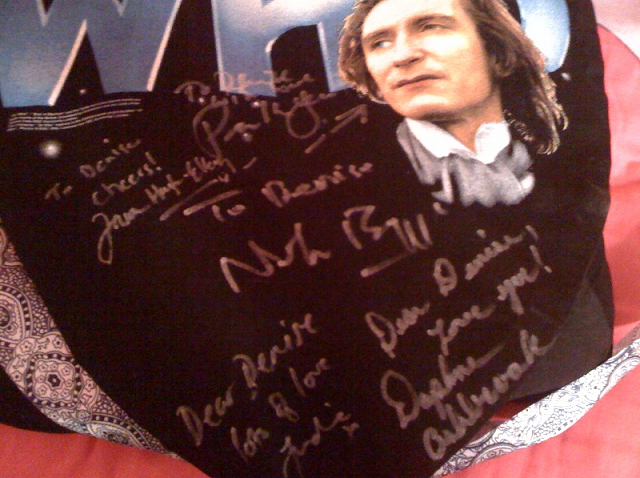 (Why yes, Paul McGann did draw an arrow to his face.)




AND THUS ENDS CHICAGO TARDIS. Holy crap.